How to set up an inclusive judo club in Serbia, Сајонела Крга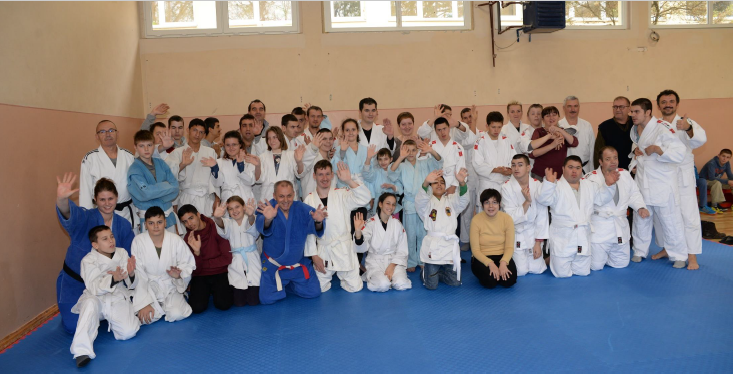 On May 16, 2021, Сајонела Крга sensei presented a report on inclusive judo initiatives in Serbia.
Summary
In Serbia, judo for persons with disabilities (PWD) was present only among the visually impaired population. There are no available sources of reference on the provision of judo for people with different types of disabilities.

Judo for PWD has been implemented in Sombor since early 2013. Thanks to support of sensei Darij Šomen from JC "Koper" in Slovenia, we started program of Inclusive judo. The goal of this programme was to enable people with different types of disabilities to participate in sport activity in this kind of judo. We had started like sport section in the special school in Sombor, without support of judo Association and Local Government. I was only coach, and I was volunteering. I had just finished my bachelor degree and I didn't have any experience about coaching PWD. Also in my Faculty, we didn't learn about adaptive sport activities. I got from Darij main support and knowledge. It lasted one year and it was very successful. Judo for people with disabilities have different names, and they all mean the same. We use Slovenian model of Inclusive judo, because judo for PWD is more than sport and competition. Unfortunately, it goes without saying that the sports clubs have places only for typical people. Inclusion means that all people have equal possibilities, and it also means that all people have possibilities to be part of sports clubs without discriminations.

As well, model of sport view on disabilities must to transform. If we look just on the abilities, we will get a new dimension and a great possibility to include every human in sport. In this case INCLUSION is a social term which means equal possibilities without discrimination, segregation and integration.
During the 2017, 2018, 2019, 2020 we held seminars, participated in competitions, built relationships and got support from different organizations. We made connection between Sport Association, Local Government, Special school, Daily center for PWD and club. Thanks to our model, one more judo club in Serbia started with the inclusive judo. As well Judo Federation of Serbia formed Commission for Development and Support Of Judo For People With Disabilities.
In 2019. we took part in 2nd ID judo European championship and our judoka Srdjan Vucelja took 1st place. Srdjan is a good example of inclusion in a typical group training session. In this way, he had developed maximum of his abilities. He is the first black belt judoka with different abilities.
Judo for people with different ability is more than sport and competition. We know that Jigoro Kano said that ,,It is not important to be better than someone else, but to be better than yesterday" and also the ideal of inclusion is to be the best version of yourself. I'm convinced that judo is the best sport for people with different abilities. Judo philosophy has great principles that are applicable to all forms of inclusion.
Document
Presenter
Сајонела Крга / Sajonela Krga
Sombor, Serbia
Sensei-IN / Judo Federation of Serbia